Description
😷 Stay Clean -Stay Safe 
Nano Portable Fog Gun For Household and Commercial use – Perfect for Home, Office, Shop, Car etc.. Even can be used for Hair Care 🙂
New Disinfection Sprayer: Cordless Model 2600MAH lithium battery-powered wireless nano electric gun, 2H charge, continuous working time up to 3 hours, Fast Charge & Power Indicator Light: 120 Mins charge time, Equipped with 8 strong light grains.
Large Capacity:Large watering capacity can hold 800ml, Detachable copper nozzle and internal conduit are anti-clogging design.Widely Used: In addition to removing odors in homes, schools, companies, transportation, etc., you can also add other liquids to the spray bottle for garden plants; Besides, it can also be used in salons, effective for hair moisturizing and care.
Best Design:The compact body allows you to feel comfortable with the ergonomic design of the handle anywhere, Easy to carry.Portable Safety.Low-temperature atomization design.No preheating, fast spraying. Our nano fogger can adjust the amount of spray by turning the switch on the handle. It can reach a spray distance of up to 2 meters.
Principle:
With 3.3 atmospheric pressure. this sprayer has a strong ability to pressurize the liquid water into a superheated gaseous molecule(140 degrees 0. 26om in diameter), It achieves a good effect on sterilizing
with diluted disinfectant.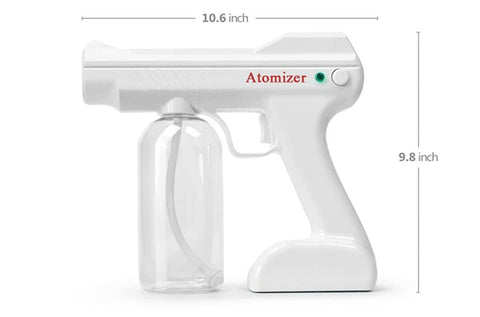 Handheld Rechargeable Nano Steam Spray Gun
Specifications:
Type: Spray disinfection gun
Material: Plastic+ metal
Quantity: 1 pc
Item Color: White
Built-in Battery Capacity: 2,600mAh
Water Tank Capacity: 800ml
Battery Life: 3h
Charging Time: 2h
Rechargeable: Yes
Range: 2m/58.95inch
Package including:
1 x spray disinfection gun
1 x container
1 x USB charging cable